How metal bracelets are made and what they distinguish
Metal tapes are much more durable than leather bands. Favorite here is the stainless steel band. Stainless steel, alloyed with steel finishing agents such as chromium or manganese, is resistant to water and perspiration. Every now and then with a nail brush, warm water and soap cleaned, a high-quality metal ribbon remains beautiful for a long time. In addition, a massive brand volume can be reworked in such a way that it looks like new again.
The alternative to leather and metal bracelets is rubber. You can find out how a rubber wrist watch bracelet is produced.
A new stainless steel band for a high-quality watch costs from about 400 euro to over 1,500 euros–depending on the manufacturer. These prices are justified in view of the elaborate production: a massive volume consists of many different shapes, which have to be individually produced, processed and connected together. The solid parts are stamped out of thick sheet metal and pressed in form, milled with CNC-controlled machines or sawn off from profile rods.
How to recognize a high-quality watch bracelet made of metal
So there are good reasons to decide on a watch with a stainless steel band or to replace a leather strap with a new stainless steel band. For high-quality watches, experts advise, the watch owner should take the gear to the dealer and select an original tape. Because no other fits so well to the design of a watch. The impetus is specifically designed for the particular model, so that the clock and tape merge into one unit. In the Royal Oak bracelet by Audemars Piguet, the individual limbs are even so far on the watch case and tuned to each other that each of them has its own shape and is thus a unique piece.
Where large quantities are produced, many work steps are automated. Modern follow-up tool ensures that the raw material runs through a few operations in a single machine and is processed, milled and drilled from several sides. Modern CNC technology also plays an important role in the production of large numbers of units.
At Cartier in La Chaux-de-Fonds, this has impressive dimensions: in a large hall, a sinfully expensive machine park works with the latest computer-controlled manufacturing centers. The result, however, is still very coarse: the edges are sharp and the surfaces rough.
Manual work for the watch bracelet
In order to clean and beautify the surfaces, an extremely laborious process starts, in which less the machine, but rather the quiet hand is required. To illustrate: To finish a housing band combination of the Pasha of Cartier, it requires more than 20 different polishing operations with regular washing operations. These work processes are expensive: in the processing of metal tapes 40 percent of the total cost is generated by the Polish.
An alternative is cheaper produced tapes, which are not to be found on the clocks of the big luxury brands. These inexpensive metal strips consist of pieces of folded sheet metal that are stamped, pressed and rolled together. There are also watch tapes that combine both: solid limbs are connected by rolled sheets.
The cheaper alternative to the manufactory watch bracelet
In the case of a look, such a band cannot withstand the charisma of a high-quality solid band. Looking closely at all is the best recommendation to recognize quality. The highest quality are massive, screwed tapes. Every single link should be round with soft, perfect edges. The strap should feel smooth, the closure must be functional, solid and stable.
A completely different variant are Milanaise tapes. These very decorative Geflechtarmbänder are made of wire spirals that are turned into each other. A good Milanaiseband is recognized by a uniform, stable and cuddly braid without sharp edges. It is also important that the belt can be changed in length – usually by removable limbs next to the closure.
To learn how to trim a metal watch bracelet, see this article with video.
Tags: Audemars Piguet, Audemars Piguet Royal Oak, Cartier watches, stainless steel watches, Swiss watches, watch bracelet
Gallery
Sold Listing – Omega Speedmaster Chronograph
Source: watchuwant.com
GEEKTHINK Brand NEW Bohemian Style Bracelet watch women …
Source: www.aliexpress.com
Watches Bands Fit Brand Metal Watch Silver With Blue …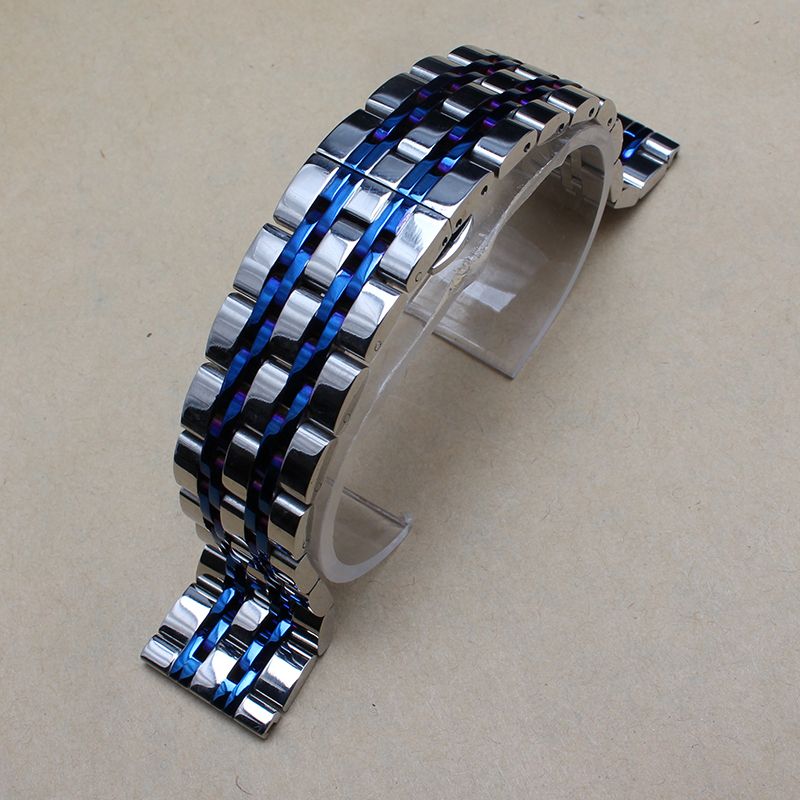 Source: www.dhgate.com
Stainless Steel Strap Straight End Metal Bracelet Wrist …
Source: www.ebay.com
20mm Hadley-Roma MB4436 Pilot Stainless Steel Straight End …
Source: www.ebay.com
Sekonda Black Dial Stainless Steel Bracelet Gents / Mens …
Source: www.ebay.com
23mm Solid Stainless Steel Strap Bracelet Watch Strap Band …
Source: www.ebay.com
2016 New Fashion,Women Watches Stainless Steel Mesh Band …
Source: sites.google.com
Silver Stainless Steel Watch Band Strap Straight End …
Source: www.ebay.com
JAWODER Watch band 22mm stainless steel deployment buckle …
Source: www.aliexpress.com
NEW Stainless Steel Watch Band Bracelet For Motorola Moto …
Source: www.ebay.com
Swarovski City Simple White Stainless Steel Bracelet Watch …
Source: www.joshuajamesjewellery.co.uk
Lowest Price Stainless Steel Watchbands Curved End …
Source: www.aliexpress.com
Fashion Women Stainless Steel Band Crystal Wrist Watches …
Source: www.ebay.com
How to Micro Adjust Watch Bracelet
Source: www.youtube.com
Mens Timex Stainless Steel Bracelet Reef Gear 16mm Push …
Source: www.ebay.com
Akribos XXIV AK627SSB Chronograph Stainless Steel Mesh …
Source: www.ebay.com
Women Gold Silver Metal Mesh Stainless Steel Band Dial …
Source: www.ebay.com
16mm 18mm 20mm ceramic Bracelet and stainless steel …
Source: www.aliexpress.com
18MM GOLD STAINLESS STEEL MESH METAL BUCKLE WATCH BAND …
Source: www.ebay.com